Founded in 2006, the company is owned and operated by Bill Ostrowski and is based out of the quiet mountain town of Woodland Park, Colorado. Bill's wide range of experience and eye for detail enables him to quickly analyze your most challenging problems and provide simple, common sense solutions to solve them.
Much of Bill's career has been spent working in the electronic contract manufacturing industry in management and support positions in administrative, sales and marketing, engineering, quality assurance, and manufacturing areas. In 1994 Bill accepted the General Manager position at a small contract electronic manufacturing company in Colorado Springs, CO, and later assumed partial ownership. Over the next thirteen years, he polished his business skills and led the company to become one of the most successful and respected in the region. Guided by the belief in solid customer service and always promoting professionalism, honesty, and integrity, Bill gained the admiration of many respected business people.
---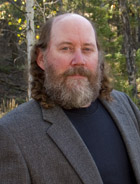 ---
Customer Service Dedication
Vista Blue has a very simple philosophy regarding customer service, we are in the business of listening to customers and delivering products and services that meet or exceed expectations. We honor our commitments and always operate with honesty and integrity.

Strong customer service is an attribute that many businesses take for granted. Many don't realize that in most markets excellent service can be just what's needed to set a business above the competition.

Vista Blue leads by example and can offer suggestions to raise your company's level of service that will ultimately be rewarded by improved customer satisfaction and loyalty.